Letter to the Academic Community
Dear colleagues and members of the academic community, dear students,
Allow me to wish you all the best and to welcome you at the start of the new academic year. Over the past weeks and months now, in the Czech Republic, Europe and around the world, we have witnessed a situation none of us had ever experienced before. Both unexpected and a shock. The novel coronavirus prompted us to adapt, quickly, to improve cooperation and to react to an ever-changing playing field to the best of our abilities. We saw enormous effort, solidarity and a volunteering spirit rise to the challenge.
At the height of the crisis, Charles University responded and without delay moved to online (or distance) learning at all 17 of our faculties, and our teachers, researchers and students helped whenever and wherever it was needed. Together with the Academy of Sciences and other universities, we offered help and know-how to the Czech government and its crisis management team from our laboratories and experts. Testing centres for covid-19 were established at the BIOCEV research centre in Prague, the First Faculty of Medicine at the General University Hospital, and other university hospitals in the capital as well as around the country.
Around 3,000 med students responded during the first wave, helping in hospitals, hygiene stations, and call centres; international students at Charles University also played a valuable role, and students from the Faculty of Education helped at day care centres to look after children of medical personnel and children and students with special needs. Their dedication and determination around the clock, each day, was admirable and inspiring. It showed that in times of crisis, citizens – including the younger generation - are ready to help and put others above self. It was truly uplifting. Once again, as both the rector of this school and as a regular citizen, let me thank all those who contributed their time and efforts.
Following the hygiene office decision from 18 September 2020, all Prague universities (and also CU's Faculty of Medicine in Plzeň) transferred to distance learning, effective from 21 September to 31 October. We were ready. At the start of the academic year, we were able to successfully launch alternative teaching methods as well as to work with crisis management and communication in place. You can find the latest information on our main university page under NEWS. Please check back for developments.
I want to thank individual faculty representatives without whom we would be unable to tackle hurdles presented by covid-19. Thanks to the efforts of teachers who quickly adapted to the crisis, often presenting their own ideas on how to better help students, we were able to get on top of the situation.
The university's crisis management team, established in the spring, is continuing in its activities, meeting on a regular basis and monitoring developments. CU Point, our Centre for Information, Counselling and Social Services, is here to help students. They need not worry, they are here for them, providing advice and a helping hand.
While the novel coronavirus has influenced learning and the running of universities, it did not stop Charles University in terms of long-term projects. Life did not grind to a halt and CU is moving forward with significant investment plans, including preparations for the construction of the new Campus Albertov, the new Faculty of Social Sciences in Jinonice or the new university archive. September saw the opening of the new site of the Faculty of Humanities in Prague- Libeň. Outside of Prague, plans for the construction of the Mephared Campus in Hradec Králové and UniMec Campus in Plzeň are also moving ahead.
On the international stage, CU is continuing its role in the prestigious 4EU+ Alliance, now well under way in terms of projects, bringing together the resources and know-how of six top universities: the University of Heidelberg, Sorbonne University, the University of Copenhagen, the University of Milan, and the University of Warsaw and of course CU. Together, we are focusing on innovation in education. University representatives are continuing cooperation and deepening ties in creating new educational programmes. Along with 4EU+, CU remains dedicated to international cooperation with strategic partners the University of Zurich, Switzerland, Macquarie University in Sydney, Australia, and St. Andrews in Great Britain.
Charles University is also focusing on sustainable development, a broad and crucial issue where universities especially can play a significant role. We are interested in equal opportunities and other key topics such as climate change (where we are also involved in research), organising a roundtable discussion, related exhibition as well as "green audit" to assess where we are as a university. On the basis of faculty assessments, we will be able to prepare a complex strategy and practical solutions which will lead to savings in energy in heating, lighting, the use of water, as well as provide the reduction of waste as well as moving forward the digitalisation agenda.
As a university, we remain dedicated to the third role in education. Our experts and research teams actively, together with other universities, participate in finding solutions to existing problems in society: over the last year we organised seven public debates casting the spotlight on key issues from drought to health care to security in an ongoing series called Česko: A jak dál?
In terms of science and research, we are focused, among other things, on the transfer of technology, founding the spinoff LAM-X, specialising in the development of nanomaterials which could lead to a revolution in the treatment of injuries in the future. Top priority, in the face of the pandemic, was also given to the founding of GeneSpector, ltd., making use of Charles University know-how in creating new testing kits making it safer, quicker, and easier to test for covid-19 and the A and B flu strains. The aim there is to cut down on testing time and to give patients a clear diagnosis – while making testing safer for lab and health care professionals.
Members of the academic community, colleagues, students,
As you can see, we have continued to make important gains in numerous areas despite hurdles presented by the coronavirus and this year will continue to face important challenges ahead. I believe we will meet them head on and persevere. I wish you all the best in the coming days and months, to remain in good health, to maintain a rational outlook and to not succumb to fear. Together, we will meet the challenges ahead.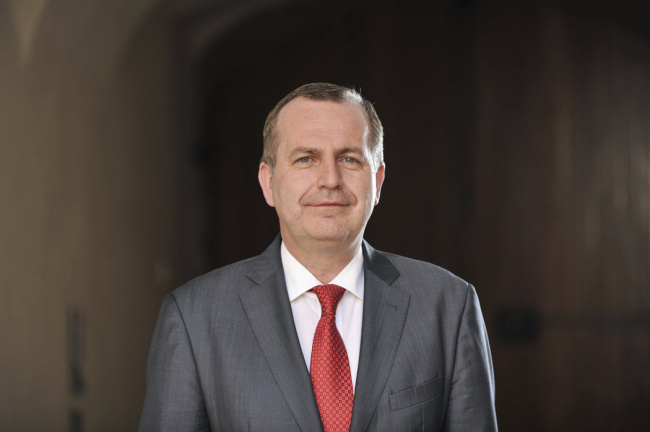 Charles University Rector Tomáš Zima
1 October 2020