Current information on employee testing and entry to CU premises
Based on the Czech government's Emergency Measure, starting on 17 March 2021 employees shall not be admitted to workplaces without confirmation that they have tested negative for SARS-CoV-2. For this reason, Charles University is initiating the large-scale testing of its employees. Employees who are required to be present at workplaces in person shall be able to take a test once every seven days at the University's testing stations.
An antigen test centre at Albertov for Charles University employees only will be in operation every Monday, Wednesday and Friday (with the exception of the 2nd and 5th of April) until further notice. The opening hours are from 7 a.m. to 4 p.m. and prior reservation is required. Those seeking a test must present a valid employment contract or employee card on the spot. Two mobile testing teams, who regularly travel to individual workplaces of CU, are also available. Employees can obtain further information about testing by the mobile team from their faculty or unit. Negative tests are valid for 7 days for the purposes of entry to workplaces.
An exemption has been granted to those who have had COVID-19 in the last 90 days or those who have been vaccinated against the disease. Either of these two reasons can be demonstrated by filling in a statutory declaration.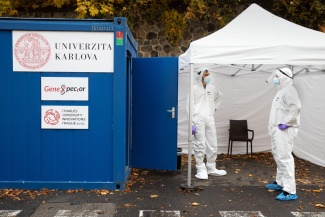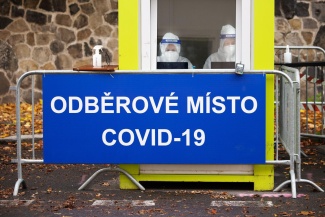 Reservation system
Appointments can be made for both the test centre at Albertov and for mobile teams. The link to the reservation system is here. On the website, choose "Albertov" or "Mobile centres", then the right place and time. We request that employees make a reservation if possible, as this significantly speeds up the process. Every employee receives confirmation of their test result, which will be valid for 7 days for the purposes of entering workplaces. Employees can print and fill out this confirmation in advance, which will reduce the administrative burden on staff during testing. The confirmation form for employees who have registered for testing through the reservation system can be downloaded here.
We would also like to ask for your understanding, as, due to capacity reasons, it is not possi-ble for the mobile teams to travel between workplaces exactly according to the reservation system. We therefore ask for your cooperation and that you queue for tests according to your time slot and comply with the principles of 3R (mask, distance, hands). While a reserva-tion does not guarantee an exact test time, it does make administration easier and speeds up the testing process. Please take into account the fact that your test may take a total of up to 30 minutes. We apologise for the inconvenience.
Testing without reservation
Naturally, it is also possible to take a test without prior reservation, both at Albertov and at mobile centres; however, employees with a reservation have priority. Employees who take a test without a prior reservation must give further information in their confirmation, which can be downloaded here.
Contact for urgent queries: