Short-term intensive programmes are a new feature of the Erasmus+ programme that allows the promotion and implementation of international mobility in a combination of physical and virtual activities. The aim is to foster international connections between higher education institutions to collectively develop programmes for groups of students, academics or administrative staff to be trained, study, and learn using innovative approaches and digital tools.
Charles university can participate in the programme either in the role of a coordinator (and receiving institution) or of a sending institution that sends participants to learn or be trained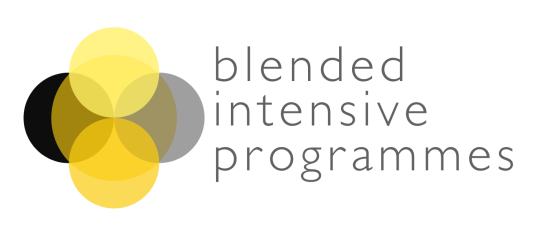 Definition of BIP
A connection of at least 3 higher education institutions from 3 different Erasmus+ programme countries

A combination of a physical mobility of 5–30 days and a virtual component (length not specified)

Attending participants can be students of all study cycles, academic and administrative staff

The institution is involved either as the coordinator or sending/receiving institution in the programme
BIP objectives
To strengthen inter-institutional cooperation at the central and faculty level

To support international multidisciplinary and interdisciplinary programmes

To develop new short-term courses in the form of combined mobilities

To introduce innovative ways of teaching, training and studying

Motivation to strengthen the digitalisation of the participating institution and enhance digital skills

Possibility to design and offer modules or programmes in English and to build on existing study programmes
Simultaneous use of the benefits of both mobilities – short-term physical and virtual

International experience for disadvantaged groups of participants

Initiating interest in long-term mobility and in collaborating on larger projects
Roles
CU as a coordinator:
CU as a sending institution:
CU as a coordinator
Based on the selected project, E+ funds are allocated to the faculty/university unit to implement the programme

The faculty/university unit creates and coordinates the programme, receiving participants from sending institutions
Conditions
Partners are at least 3 higher education institutions (ECHE holders) from 3 different Erasmus+ programme countries (EU countries, Iceland, Liechtenstein, Norway, North Macedonia, Serbia and Turkey)

A minimum of 15–20 participants from sending institutions (not counting participants from the home institution)

Participants can be students or staff

The programme consists of a physical mobility of 5–30 days and a virtual mobility, where the duration is not determined

A minimum of 3 ECTS must be allocated to each BIP

Support in a valid inter-institutional agreement

Compliance with the rules for the implementation of the project within the BIP
CU as a sending institution
Based on a faculty selection procedure, students or employees of our university may participate in a programme organised by a coordinating institution abroad

The mobility of students or staff for 5–30 days is financed from the allocated E+ budget
Contact
European Office, International Relations Department at CU Rectorate

Faculty International Relations Departments
Financing of the BIP
Coordinating institution
The researcher of the selected BIP project is allocated OM/OS funding of between EUR 6,000 and 8,000 depending on the minimal number of participants (15–20) in the programme. OM/OS funds are intended for the preparation, design, development, coordination, implementation and follow-up of the BIP, in particular for:
Preparation of teaching materials

Rental of premises and equipment

Communication activities, translation and interpretation

Preparatory visits and administrative tasks

Refreshments (coffee-breaks) during the programme

Trips and excursions included in the programme

Remuneration for teachers, trainers and administrative staff
Sending institution
Provides BIP participants with a scholarship from its E+ budget for a stay at the receiving (coordinating) institution in the amount of:
Days 1–14: 70 EUR/day

Days 15–30: 50 EUR/day

(+ travel days, possibly Green Erasmus). For participants with special needs, this amount may be increased accordingly.
BIP participants
BIP participants can be students of all study fields and study cycles, academic and administrative staff.
Taught/trained participants (those for whom the programme is intended)
From the home/coordinating institution – not counted as minimum participants, number not determined

From other sending institutions (also from so-called E+ partner countries) – not counted as minimum participants
Programme implementers (administration, trainers, teachers)
From the home/coordinating institution
Project researcher

Trainers, teachers

Administration
From participating/sending institutions
Guest trainers, lecturers from other higher education institutions, enterprises and other institutions
BIP programme
The project researcher shall take into account the following criteria in the design, coordination and implementation of the BIP:
Applying the basic principles of the Erasmus+ programme – inclusion, digitisation, sustainability and civic engagement

Innovative teaching/training

A mandatory combination of physical and virtual activities that form a coherent whole:

The physical mobility of 5–30 days, reinforces the virtual part, involving interaction and specific tasks.

The virtual component complements the physical activity, includes online team collaboration and preparation (can be before and/or after the physical activity, length not specified)
Teaching/training forms the majority

Inclusion of group work, discussions, lab work

Connecting participants to the home environment – fieldwork, visits, engagement with the faculty community

Taking advantage of the opportunity to create a programme that cannot be implemented in any other way

The programme content corresponds to a minimum of 3 ECTS
BIP life cycle
CU as a coordinating institution
Submitting an application - DEADLINE: 15. 11. 2023. The results will be announced by 15. 12. 2023.

Approval of the project, allocation of funds

Selection procedure for foreign participants (not mandatory)

Selection procedure for participants from the home institution (staff, students – mandatory)

Administrative process (project researcher in cooperation with the international relations departments of the partner institution, their faculty and the International Relations Department of the CU Rectorate)

Preparatory work for the project (use of funds)

Implementation of activities

Evaluation of the project (preparation of the final report and accounts)
CU as a sending institution
Selection procedure for participants (faculty International Relations Departments)

Nomination to the Charles University Rectorate

Submission of the application form

Awarding of the scholarship for the implementation of the stay (International Relations Dep., CU Rectorate)

Evaluation of the stay (submission of post-stay documentation – International Relations Dep., CU Rectorate)