GeneSpector s.r.o., subsidiary company of Charles University, introduces previously announced combined diagnostic test for COVID-19, Influenza A, and Influenza B
GeneSpector s.r.o., subsidiary company of Charles University, introduces previously announced combined diagnostic test for Covid-19, Influenza A, and Influenza B. Early diagnostics are mainly going to help symptomatic patients in ER. With the new test, patients with negative Covid-19 results are going to know if they have influenza that can be cured with available antiviral drugs and whether quarantine rules apply to them. This multiplex test is going to be provided for the same price as the current Covid-19 test. Thanks to GeneSpector technology, testing capacities for Covid-19 of numerous hospitals and diagnostic labs in the Czech Republic have been successfully increased.
In August, Rector of Charles University announced a foundation of university subsidiary company GeneSpector s.r.o. together with an information that multiplex test for covid-19, Influenza A, and Influenza B is going to be available in autumn 2020. In September during a press conference, distribution of Covid-19 tests was launched together with a promise that the multiplex test in going to be added the line-up in October 2020. Today, as promised, Charles University introduces the finished multiplex test kit, which is already available to order via webpage: https://www.genespector.com.
Multiplex test brings a number of advantages for patients. So far, it was only possible to tell whether the patient is covid-19 positive or negative. In case of positive results, quarantine rules were applied. In case of negative results, however with matching symptoms, the patient was not sure if he has flu or another viral disease. Now, thanks to the multiplex test, the patient can find out if he is negative for Covid-19 and positive for Influenza A or B. As a result, quarantine results don't have to be applied and the person can be treated with available antiviral drugs. This information is especially important in patients with a severe respiratory disease in the ER, since with the test results in hand, the patient can be sent to a matching ICU department with or without strict Covid-19 precautions.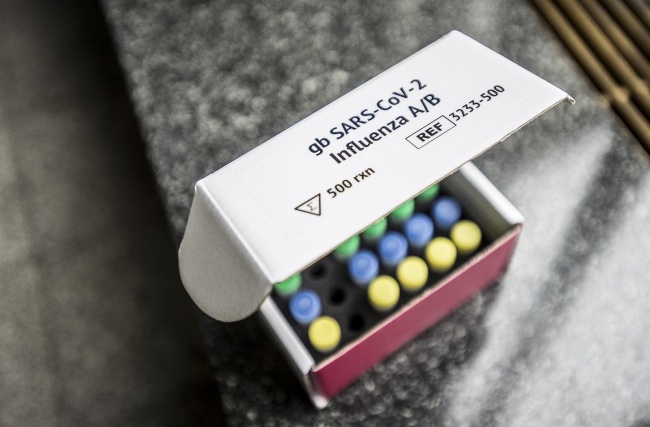 New multiplex test manufactured by GeneSpector has the same qualities as the previously introduced Covid-19-only test: sampling kits contain viRNAtrap™ solution which immediately inactivates viral particles and stabilises samples for later diagnostic analyses. Therefore, safety for medical and laboratory personnel is assured. Testing kits were developed in a cooperation with the National Reference Laboratory for Influenza, which is a part of the National Institute of Public Health.
Charles University and its subsidiary company have decided to fight Covid-19 and other respiratory diseases also by reasonable pricing, in order to make the multiplex test affordable for everybody. Therefore, people are going to pay the same price for the new multiplex test as for the previous covid-19-only test. Currently, GeneSpector technology is used in one fifth of all test conducted in the Czech Republic, which means that from now on, every fifth tested person in our country is going to receive three test results instead of one.
In September, GeneSpector representatives promised increased Covid-19 testing capacities of hospitals and diagnostic laboratories. Based on public data1, an average regional hospital is capable of testing 50–300 samples a day, while big diagnostic labs can test 800–1,200 samples a day. When compared with data from hospitals and laboratories that implemented the GeneSpector technology, a significant increase in testing capacities can be observed. In the past few weeks, thanks to GeneSpector protocols and automation, one of the biggest diagnostic laboratories was able to test a record-breaking 5,546 samples within one day, while a standard in this laboratory is around 2,500 tests a day. We are intensely working on increasing testing capacities mainly in university hospitals and regional hospitals through an optimisation of the whole process, from sampling to results, and by implementing the GeneSpector technology.