30 September 2021
Europeaum's Graham awarded medal from Rector Tomáš Zima
On 24 September 2021, the Rector of Charles University, Professor Tomáš Zima, was pleased to award a Gold Medal to Dr Andrew Graham in recognition of the strong reinvigoration of the Europaeum that has occurred under his leadership. Charles University joined the Europeaum in 2001 and has been a strong supporter ever since. It has therefore especially welcomed the recent resurgence.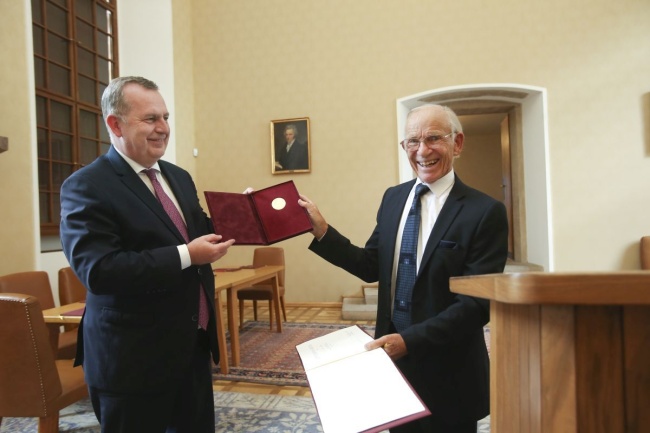 In particular, Dr Graham had created the new Europaeum Scholarship Programme in 2017 and, alongside this, the membership has grown from the equivalent of ten full members in 2016 to eighteen full members today. In accepting the award, Dr Graham expressed his great pleasure. He added that speaking in the same room in May 2016 he had commented that whatever happened in the Brexit Referendum, the Europaeum would be needed more than ever.
He felt that subsequent developments had, regrettably, made this even more true than it had been at the time. In his closing remarks, he reminded colleagues of Gramsci's statement that one should have "pessimism of the intellect, but optimism of the will" – a comment, he felt, wholly applicable to Europe today.
Read Forum's full article about the recent university network meeting at CU and the signing of the Prague Declaration II here: Prague Declaration II signed at CU