President appoints Milena Králíčková first-ever woman rector of Charles University
On Wednesday, 26 January 2022, Professor Milena Králíčková - elected in the autumn by the Academic Senate as the next head of Charles University (and first woman rector in its 674 year history), was appointed by President Miloš Zeman at Prague Castle. The ceremony included candidates also from other universities in the Czech Republic. Most, like CU's Králíčková, will take office at the beginning of next month.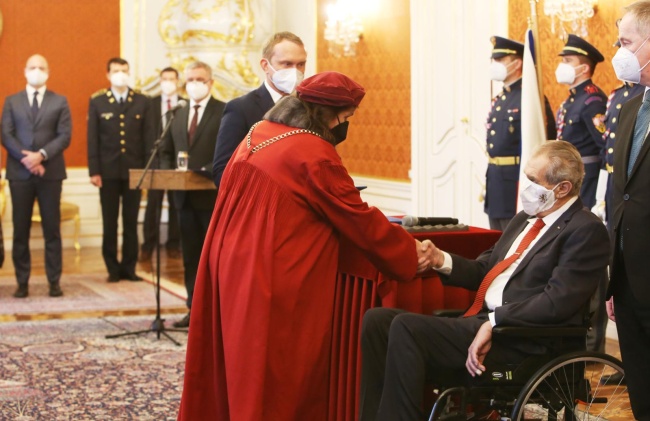 Králíčková succeeds Rector Tomáš Zima, who served as rector for a maximum two four-year mandates. Until now the vice-rector for education, she will be the first woman to head Charles University since its founding in 1348. Her professional career is closely connected to CU's Faculty of Medicine in Plzeň. In the past, she completed a Fulbright fellowship at Harvard in the United States. Last October, she defeated Professor of History Michal Stehlík from the Faculty of Arts of Charles University for the post. In the first round of the election, she received 55 valid votes while a total of 69 senators voted.
Rector Králíčková is expected to take office on Tuesday 1 February 2022 and lead the school until January 2026."120 years ago, women started studying in universities in Bohemia. Today, it is the case that women are predominant in some fields. I appreciate your trust immensely and I believe I will not disappoint you. Thank you to all my colleagues who have helped me. Thank you for your support and cooperation. And finally, I thank my family, my husband and daughters, without them I would not be standing here today," Králíčková stated after her emotional win in October of 2021.
Zeman returns to castle; CU, CTU, Czech University of Life Sciences and more
President Zeman returned to the Castle after a five-month layoff, that included a lengthy hospital stay at the Central Military Hospital (ÚVN) in Prague and a period of recovery at the presidential Lány Chateau outside the capital. All of the new rectors were elected by the academic senates of their respective schools; they were also approved by the Czech Government in December. Mostly new personalities will take up the posts, but rectors at four universities are continuing in second terms, among them Petr Sklenička, who will continue to lead the Czech University of Life Sciences in Prague. The academics of the Czech Technical University in Prague (ČVUT) re-elected Vojtěch Petráček, the Technical University of Liberec, which is headed by Miroslav Brzezina, also granted him a second term, and Alois Nečas will remain the rector of the Veterinary University in Brno.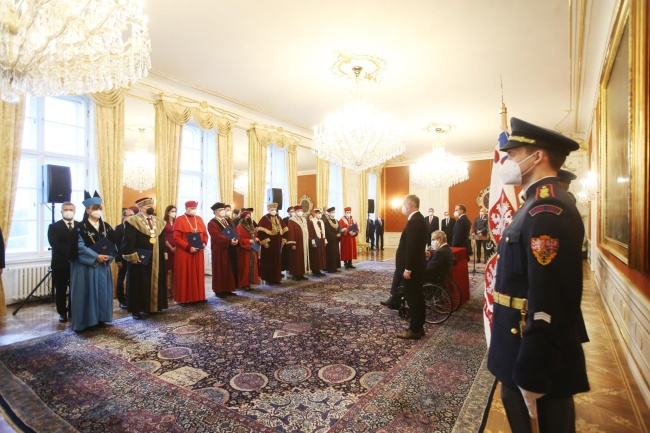 Besides Milena Králíčková at Charles University, new rectors have been appointed at the Academy of Fine Arts (Maria Topolčanská) and the Janáček Academy of Performing Arts (JAMU) in Brno will be headed by Petr Michálek. Libor Čapek has become the rector of the University of Pardubice, Ladislav Janíček was elected to the post at the Brno University of Technology (VUT) and the rector of the University of Economics (VŠE) has also changed, with Petr Dvořák taking up the post on 1 April.
The remaining elected rector, Vojtěch Adam of Mendel University, did not attend the programme on Wednesday due to illness, the Czech News Agency reported.
Text: Martin Rychlík, ČTK
Photo: Martin Pinkas