28 February 2023
Projects supported by Charles University mini-grants are ready to kick off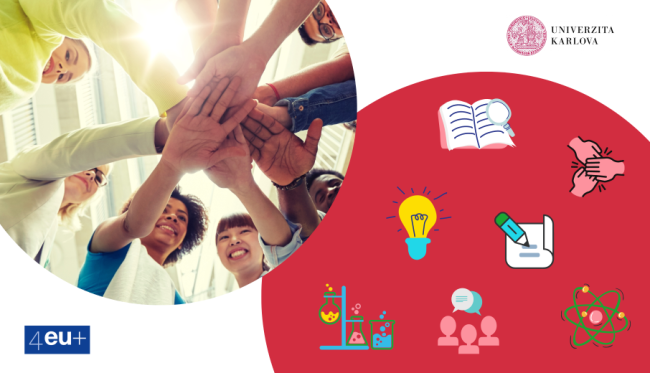 Charles University has announced the results of the already fifth edition of the call for 4EU+ academic mini-grants and the second edition of the student mini-grants. More than 150 members of the academic communities of our seven 4EU+ universities will come together to develop joint projects and innovative initiatives responding to the challenges facing our world today.
Half of the 22 project proposals selected to receive seed funding in the call for academic mini-grants this year were submitted by newly established teams composed of members from at least three 4EU+ universities, the other half are continuations of collaboration initiated in the previous years. All the projects are thematically linked with one of the 4EU+ Flagships, involve a research part and many of them also envisage carrying out educational activities such as workshops, seminars or plug-in modules serving as a basis for a joint study programme.
Among the 12 student mini-grants, there are projects initiating international research collaboration of PhD candidates, projects enhancing key 4EU+ competencies and skills needed for future careers of the students as well as initiatives aiming to foster socio-cultural collaboration and community building in the alliance.
Both schemes of mini-grants not only support the teams to develop sustainable collaboration and submit joint proposals for external funding but also provide a platform for networking, sharing best practices and new innovative ideas.
"The 4EU+ student mini-grants are a great opportunity for students regardless of their field or year of study. It is like an invitation to fantasize and experiment in the academic universe, to realise shared actions that might be out of the current scope of the university but also to assume responsibility, build a team and take care of a project from the beginning to the end," comments Tereza Hrdlička, leader of one of the successful student projects.
Charles University Mini-grants 2023
Charles University Student Mini-grants 2023