Matfyz Press publishes first Czech 'handbook' on science communication
MatfyzPress, the publishing house of the Faculty of Mathematics and Physics at Charles University, introduces a new publication, Science Communication, the first of its kind in the Czech language. This book delves into the significance of science communication for the general public and offers insights for tackling complex subjects across 15 chapters. The foreword is contributed by Czech TV moderator Daniel Stach.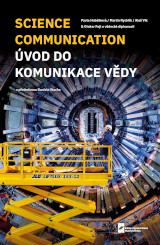 The new book is co-authored by experienced science reporters Martin Rychlík and Pavla Hubálková from Forum magazine, along with Aleš Vlk (the founder of vedaavyzkum.cz profiled in the latest edition of Forum Radio) and Otakar Fojt, science attaché at the British Embassy in Prague. The title has received praise from Charles University's Vice-Rector for Public Relations, Martin Vlach, emphasising the authors' expertise in the science media landscape. Publications like these fulfil the university's role in engaging and serving the public.
Designed for a diverse readership, the book is intended for scientists, academics, students, project and institutional administrators, as well as PR professionals, journalists, and science popularization enthusiasts. It provides a rich array of real-world examples, showcasing both effective and ineffective practices from both domestic and international contexts. Throughout the chapters, readers will find case studies, media excerpts, networks, and book references, alongside original interviews with experts offering varied perspectives on the subject.
The launch event for the highly-anticipated volume will take place on Tuesday, October 31st, at 1 p.m., hosted at the Faculty's premises in the Malostranské náměstí refectory.
The event will be attended by his Excellency Matt Field, the UK Ambassador to the Czech Republic, and Pavel Doleček, the Deputy Minister for Science.
Media contacts
pavla.hubalkova@ruk.cuni.cz, +420 604 595 479
martin.rychlik@ruk.cuni.cz, +420 724 913 916