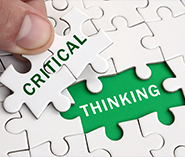 24 March 2021
What does it mean to "think critically"? Every day we are inundated with a vast amount of information from many different sources. That is why it is so important to think critically - but what does it actually mean? Do not accept information blindly, be able to think critically about it, evaluate it and evaluate its relevance.
In this online workshop, we will focus on techniques that train all these skills. At the same time, we will show you how to recognize argumentation fouls, prevent cognitive biases as much as possible, and reveal various manipulative techniques.
Goals of the workshop:
• Think critically about the received information
• Recognize manipulative techniques
• Explain how important it is to look at situations from different points of view
• Understand argumentative fouls and cognitive bias
• Ability to discuss, debate and present your ideas
The workshop is organized by Faketicky - a non-profit and student-led organization focusing on media education and critical thinking.
WHEN: Wednesday, March 24, 2021, 16:00 - 18:00 (online)
REGISTRATION: HERE
The link for the webinar will be sent to all registered participants.