VESNA 2019 conference brings together European experts and current research from broad range of fields, presenting current knowledge about plant based diets and related topics.
5 November 2019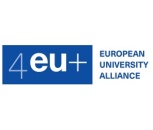 Students wish to influence the future of the 4EU+ alliance
30 October 2019
Prestigious ERC Starting Grant awarded to Botany Department
9 October 2019
The Department of Anglophone Literatures and Cultures cordially invites you to the presentation of the latest issue of the peer-reviewed academic journal Litteraria Pragensia. The topic of the 56th issue is "Frankenstein at 200: A Literary Celebration".
14 March 2019