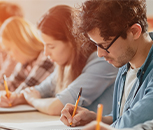 Charles University (CU) is closely monitoring the covid-19 situation and is keeping the academic community continually informed with up-to-date information. CU is following, and will follow, the recommendations of the relevant state bodies and is prepared to react promptly to developments.
30 September 2021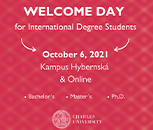 We are pleased to invite all international Bachelor´s, Master´s and Doctoral degree programmes students beginning their studies at Charles University in the academic year 2021/2022 to our Welcome Day.
17 September 2021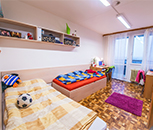 Further information on the operation of dormitories and on the method of fulfilment and proof of compliance with the relevant obligations shall be published no later than 1 September 2021. We apologize for any inconvenience caused and thank you for respecting these government-mandated rules and conditions.
20 August 2021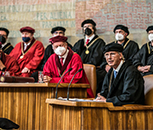 "I have always been attracted to science from a medical point of view. The choice of virology was a combination of relevance to human health and the technical possibilities of that time," says Professor Hans-Georg Kraeusslich, explaining why he became a virologist. Professor Kraeusslich was recently honoured by Charles University.
15 October 2021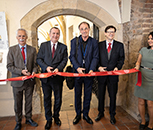 This month, Charles University became the first stop for a traveling exhibition about the Vienna Circle from the University of Vienna. The show was accompanied by a conference on the lasting influence of the group – which included philosophers and scientists such as Moritz Schlick and Otto Neurath.
14 October 2021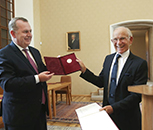 On 24 September 2021, the Rector of Charles University, Professor Tomáš Zima, was pleased to award a Gold Medal to Dr Andrew Graham in recognition of the strong reinvigoration of the Europaeum that has occurred under his leadership. Charles University joined the Europeaum in 2001 and has been a strong supporter ever since. It has therefore especially welcomed the recent resurgence. 
30 September 2021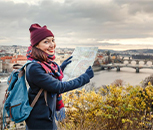 We would like to invite all international full-degree students to the online integration course WELCOME TO THE CZECH REPUBLIC (for non-EU students only). The course will provide you with important information for your stay in the Czech Republic - especially during the first months upon your arrival. You may ask questions concerning your residence legislation, visas, employment, housing, health insurance etc.
30 September 2021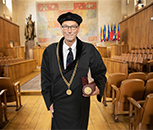 Thomas Hylland Eriksen is a world-renowned anthropologist whose research has taken him from the islands of Mauritius and Trinidad to Australia and back to his homeland, Norway. A professor at the University of Oslo, Eriksen is a prolific author, perhaps best known for the seminal Tyranny of the Moment: Fast and Slow Time in the Information Age (2001) and Overheating: An Anthropology of Accelerated Change (2016). The professor was honoured by Charles University recently.
23 September 2021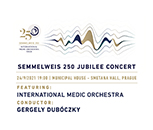 The Medic Orchestra of Semmelweis University (Hungary) - this year marks the 250th anniversary of the school's foundation - was formed eleven years ago and has been led by artistic director and conductor Gergely Dubóczky since 2009. Its members are primarily students from the medical school, as well as from other Hungarian institutions of higher education.
15 September 2021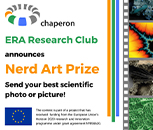 The Chaperon ERA Research Club invites you to participate in our Nerd Art Prize contest by sending us your best scientific photo or picture. Five best pictures will be selected by a committee composed of the Chaperon project leadership group. The winning pictures will be hung in the newly constructed campus building of the Faculty of Medicine in Pilsen and the winners will be rewarded with surprise gifts.
25 August 2021