Charles University will lead a large international research consortium on modeling climate policies. Innovative economic research, carried with cutting-edge models, will improve climate change policies for Europe and the world.
13 December 2019
France's Minister of State for European Affairs Amelie de Montchallin visited Charles University. The future of the EU, Brexit, Ukraine sovereignty among issues discussed.
29 November 2019
Eight scientists – three of them from Charles University – received Neuron Awards at an official ceremony at the National Museum in Prague.
26 November 2019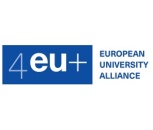 Students wish to influence the future of the 4EU+ alliance
30 October 2019