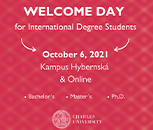 We are pleased to invite all international Bachelor´s, Master´s and Doctoral degree programmes students beginning their studies at Charles University in the academic year 2021/2022 to our Welcome Day.
17 September 2021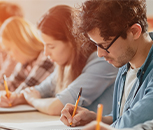 Charles University (CU) is closely monitoring the covid-19 situation and is keeping the academic community continually informed with up-to-date information. CU is following, and will follow, the recommendations of the relevant state bodies and is prepared to react promptly to developments.
16 September 2021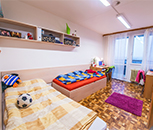 Further information on the operation of dormitories and on the method of fulfilment and proof of compliance with the relevant obligations shall be published no later than 1 September 2021. We apologize for any inconvenience caused and thank you for respecting these government-mandated rules and conditions.
20 August 2021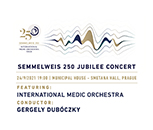 The Medic Orchestra of Semmelweis University (Hungary) - this year marks the 250th anniversary of the school's foundation - was formed eleven years ago and has been led by artistic director and conductor Gergely Dubóczky since 2009. Its members are primarily students from the medical school, as well as from other Hungarian institutions of higher education.
15 September 2021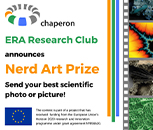 The Chaperon ERA Research Club invites you to participate in our Nerd Art Prize contest by sending us your best scientific photo or picture. Five best pictures will be selected by a committee composed of the Chaperon project leadership group. The winning pictures will be hung in the newly constructed campus building of the Faculty of Medicine in Pilsen and the winners will be rewarded with surprise gifts.
25 August 2021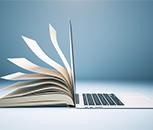 Before we launch a new platform from September 2021, it is necessary to temporarily close all libraries' operation at Charles University. The temporary shutdown will take place from 12 to 31 August 2021 inclusive. Data from existing systems will be transferred to the new platform, the system configuration will be finalized, and we will train all CU libraries staff during this period.
29 June 2021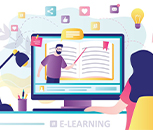 The Open Science Support Centre offers a number of educational activities and methodological materials, including online courses in the Moodle for further education system. One of the first courses, Open Access at CU - How to publish Open Access?, is now also available in English.
25 June 2021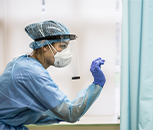 Based on the Czech government's Emergency Measure, starting on 17 March 2021 employees shall not be admitted to workplaces without confirmation that they have tested negative for SARS-CoV-2. For this reason, Charles University is initiating the large-scale testing of its employees.
15 June 2021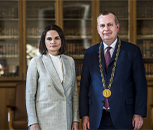 Belarusian opposition leader Sviatlana Tsikhanouskaya is on a four-day visit to the Czech Republic. The leader was invited to Prague by the speaker of the Senate, Miloš Vystrčil. On Monday afternoon, she and her team met for talks at Charles University. On the agenda: ways to help students and to support democracy in Belarus.
8 June 2021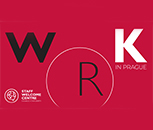 Are you a new Charles University employee from abroad and need some advice on moving to the Czech Republic? Or maybe you are our colleague from the university and are preparing to hire an employee from abroad at your workplace and are not sure what needs to be done before the person arrives.
24 May 2021