Welcome Day for postdocs will take place at Kampus Hybernská on 23rd October 2023 at 4pm in Space 2D. More information and registration on this website.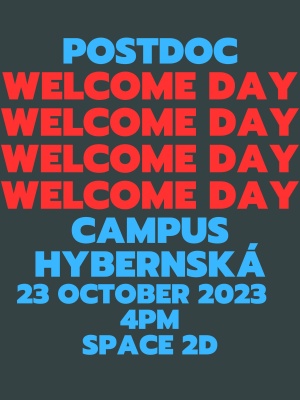 Another session of Join the Debate will take place on 30th October 2023 at 17:45 hours at Campus Hybernská (Space 2D). The guest will this time be RNDr. Lenka Slavíková, Ph.D. from the Faculty of Mathematics and Physics. Please register for the event on this website.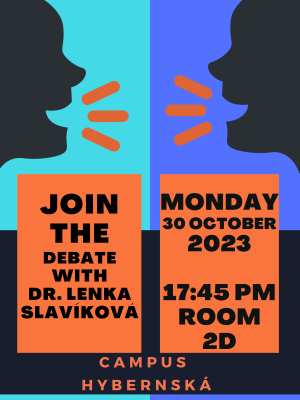 Fulbright Visiting Scholar Program call for Post-Doctoral Research and/or Lecturing intended for citizens of EU member states for a period between three months and one academic year. More information and deadline on this website. Apply until 1st December 2023.
GAČR informs about International projects (LA projects) evaluated on the "Lead Agency" principle which are aimed at supporting international cooperation with Germany, Austria and United States of America. Detailed information on this site.
The Martina Roeselová Memorial Fellowship helps young scientists in the field of natural sciences balance competitive scientific work with high-quality care for preschool-age children. Stipends are awarded for a single calendar year in the amount of CZK 150,000. They are primarily intended for Ph.D. students and postdoctoral fellows at the beginning of their career and in a difficult life situation. Detailed information on how to apply until 22 September 2023.
The Branco Weiss Fellowship offers an opportunity for postdocs in all areas of natural and social sciences and engineering who have conceived an original and independent research idea that falls outside the scope of large-scale research projects. They will receive support for up to five years. More information on this website. Deadline for applications is 15th January 2024.
Gerda Henkel Stiftung call for General Research Grants: Scholarships and General Research Grants: Projects in enumerated fields of social sciences and humanities. Detailed information available on this website. Deadline for applications is 22 November 2023.
The Royal Society International Exchanges Scheme Standard Programme 2023 is designed to offer a flexible platform for UK based scientists to interact with the best scientists around the world. Funds for a contribution towards travel, subsistence and research expenses. More information on this website. Deadline for applications is 27th September 2023 (15 o´clock British time).
la Caixa Foundation call for postdoctoral fellowships for excellent researchers of any nationality, who wish to continue their research career in Spain or Portugal. The fellowships are awarded in life sciences, experimental sciences, physics, chemistry, engineering, technology and mathematics. Detailed information on this website. Deadline for applications is 5th October 2023 at 2 pm Peninsular Spain time.
Leibniz Institute of European History awards fellowships to postdocs dealing with the religious, political, social and cultural history of Europe from the early modern period to 1989/90. You will find more information on this website. Deadline for applications is 15th October 2023.
List of Post-Doctoral Fellowships at Charles University has been announced by Junior Fund. More info on this website.
Gerald D. Feldman Travel Grants call for academics in the qualification phase with an international focus. Applications until 6th October 2023. More info on this website.
Czech Science Foundation call for Swiss - Czech projects evaluated on the basis of Lead Agency principle. More info from the Swiss National Science Foundation on this website. Deadline on the Czech side of the project proposal is 9th October 2023.
Welcome Day for postdocs will take place at Kampus Hybernská on 29th May 2023 at 4pm in Space 2D. More info and registration here. There will be a guided tour of Prague after the programme at Kampus Hybernská.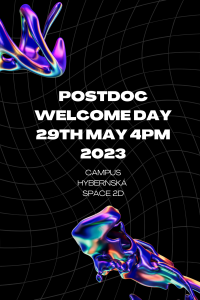 Faculty of Education organizes TSTT 2023: International Conference Rethinking How to Train Teachers of Tomorrow from 15th to 17th September 2023. More info and the registration on this website.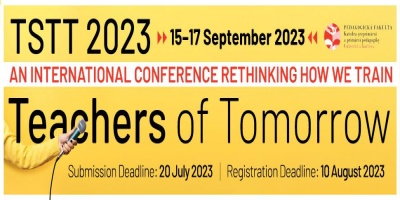 Proofreading in Czech and English languages course also for postdocs. Detail information and registration here.
The Czech Science Foundation (GACR) is announcing calls for proposals for tenders in the area of Standard Projects, JUNIOR STAR, POSTDOC INDIVIDUAL FELLOWSHIP, and International and Lead Agency projects. Please do consult these calls at your faculties.
Join the Debate with PostDoc Dr. Gamze Korbek at Campus Hybernská. She will talk about her experience as a postdoc at Charles University.
Date and time of the event: 13 March 2023 (16:00 - 18:00 hours)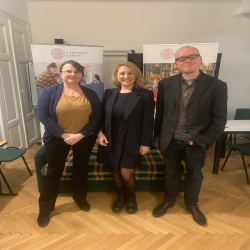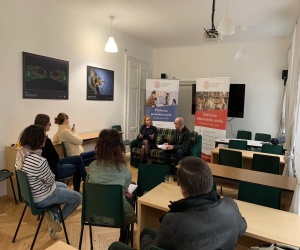 Eugenia Boffo, Ph.D. shares her experience as a postdoc at Faculty of Mathematics and Physics of Charles University. You can listen to the Postdoctoral Podcast here.
A postdoc position for a candidate with strong experience in the physics and/or chemistry of 2D materials. The successful applicant will join Dr. Matěj Velický and his team, supported by the prestigious Lumina Quaeruntur Award, who are exploiting tunable electrochemistry and spectroscopy of 2D materials. This position remains open until a suitable candidate is found.
From now on you can follow us at

Facebook,
Instagram and

Twitter.
Applications welcome! With the intention to facilitate invaluable skills and experiences of postdocs at Charles University we announce a range of opportunities for postdocs: Rectorate offers (various deadlines).
EMBO informs about Postdoctoral Fellowship programme. Please have a look at the guidelines here.
Czech Language Courses for Foreign Employees info regarding current courses starting January 2023
The MSCA-COFUND action provides funding for regional, national and international programmes for training and career development, through co-funding mechanisms. MSCA-COFUND (Next deadline will be announced on 10th October 2023 or according to specific calls). How to apply instructions* here.
*postdocs can submit applications directly in coordination with receiving institutions abroad.
You are a post-doc with knowledge, experiences and skills and you would like to share some of it with CU PhD students in a friendly post/doctoral space of Kampus Hybernská - the opportunity is here for you: Join the debate as a speaker
Junior Fund - its goal is to attract prospective international post-doc researchers, who will carry out research within a specific field. (many offers, various deadlines).
Crowdhelix is an Open Innovation platform that forges links between an international network of excellent researchers... (as an employee of UK you can become easily a member).
The Grant Agency's of the Czech Republic new publication for junior scientists, which will help them find their way in grant competitions and their conditions.
DAAD Research Grants (Short Term) also for postdocs
Walter Benjamin Programme for postdocs (ongoing applications)
Humboldt Research Fellowship for postdoctoral and experienced researchers (reviewing applications every March, July and November)
Open online course The first Excellence-in-ReSTI module
- introduction to the European Union institutions, their strategies, policy goals and funding structures
Czech Language Courses for Foreign Employees
E-learning course: How to publish in Open Access Now available in English!
and other Open Science courses here
Research Management courses and more
New website for postdocs at Faculty of Education