Workshop How to create a scientific poster.
Where: Zelená posluchárna/Green auditorium (no. 141), Celetná 20, Prague 1
When: 26th April 2023 (15:00 - 16:30 hours)
Proofreading in Czech and English languages course also for postdocs. Detail information and registration here.
The Czech Science Foundation (GACR) is announcing calls for proposals for tenders in the area of Standard Projects, JUNIOR STAR, POSTDOC INDIVIDUAL FELLOWSHIP, and International and Lead Agency projects. Please do consult these calls at your faculties.
A series of events dedicated to Young PIs: expect informal meetings held in English language for starting research group leaders in Czechia. You can network, share hiring tips, admin hacks, and management dos and don'ts in Café Potrvá (Prague) on 28th Feb. Register through the link Young Principal Investigator Forum #YPIF .
Join the Debate with PostDoc Dr. Gamze Korbek at Campus Hybernská. She will talk about her experience as a postdoc at Charles University.
Date and time of the event: 13 March 2023 (16:00 - 18:00 hours)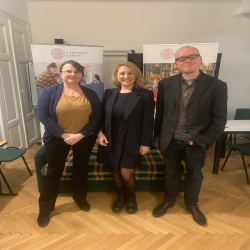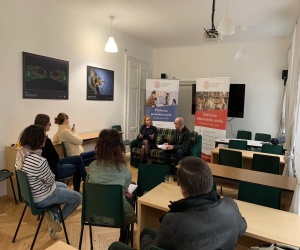 Eugenia Boffo, Ph.D. shares her experience as a postdoc at Faculty of Mathematics and Physics of Charles University. You can listen to the Postdoctoral Podcast here.
A postdoc position for a candidate with strong experience in the physics and/or chemistry of 2D materials. The successful applicant will join Dr. Matěj Velický and his team, supported by the prestigious Lumina Quaeruntur Award, who are exploiting tunable electrochemistry and spectroscopy of 2D materials. This position remains open until a suitable candidate is found.
From now on you can follow us at

Facebook,
Instagram and

Twitter.
Applications welcome! With the intention to facilitate invaluable skills and experiences of postdocs at Charles University we announce a range of opportunities for postdocs: Rectorate offers (various deadlines).
EMBO informs about Postdoctoral Fellowship programme. Please have a look at the guidelines here.
Czech Language Courses for Foreign Employees info regarding current courses starting January 2023
JSPS Postdoctoral Fellowship for Overseas Researchers pro rok 2023 (Japan).
Japan Society for the Promotion of Science (JSPS) has issued this year's Call for Applications for the JSPS Postdoctoral Fellowship for Overseas Researchers FY 2023. The Division of International Cooperation of the Czech Academy of Sciences will administer applications from the Czech Republic. Deadline for applications on the Czech side is 17 April 2023. Selected applicants must start their fellowship in Japan no later than 30 November 2023.
Applicants must hold a doctorate degree that they obtained on or after 2 April 2017.
The MSCA-COFUND action provides funding for regional, national and international programmes for training and career development, through co-funding mechanisms. MSCA-COFUND (Next deadline will be announced on 10th October 2023 or according to specific calls). How to apply instructions* here.
*postdocs can submit applications directly in coordination with receiving institutions abroad.
One month at The University of St. Andrew's for talented researchers - Global Fellowships (deadline 1. March 2023).
You are a post-doc with knowledge, experiences and skills and you would like to share some of it with CU PhD students in a friendly post/doctoral space of Kampus Hybernská - the opportunity is here for you: Join the debate as a speaker
Junior Fund - its goal is to attract prospective international post-doc researchers, who will carry out research within a specific field. (many offers, various deadlines).
Crowdhelix is an Open Innovation platform that forges links between an international network of excellent researchers... (as an employee of UK you can become easily a member).
The Grant Agency's of the Czech Republic new publication for junior scientists, which will help them find their way in grant competitions and their conditions.
DAAD Research Grants (Short Term) also for postdocs
Walter Benjamin Programme for postdocs (ongoing applications)
Humboldt Research Fellowship for postdoctoral and experienced researchers (reviewing applications every March, July and November)
Open online course The first Excellence-in-ReSTI module
- introduction to the European Union institutions, their strategies, policy goals and funding structures
Czech Language Courses for Foreign Employees
E-learning course: How to publish in Open Access Now available in English!
and other Open Science courses here
Research Management courses and more
New website for postdocs at Faculty of Education